Japasoul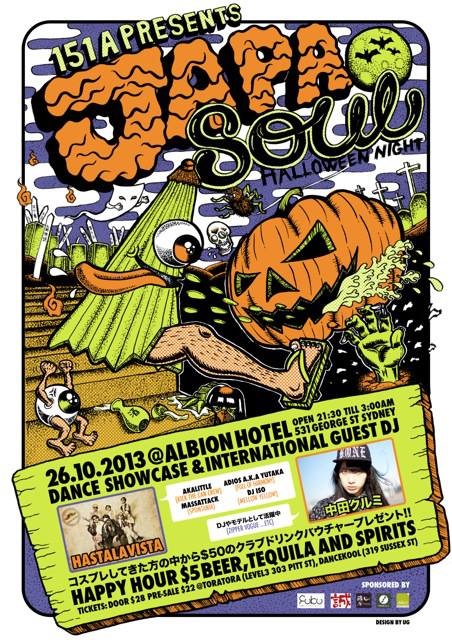 151A presents JAPA SOUL Vol.6.
JAPA SOUL is finally coming back, and this time, it?fs going to be a HALLOWEEN NIGHT!!!
We are hounoured to welcome Hasta La Vista to make their come back, with a new crew Little (from Kick The Can Crew), and in addition to this beaming lineup, we?fd like to announce our second guest, a model/DJ Kurumi Nakada (?gNYLON?h, ?gZipper?h, ?gKERA?h, ?gVOGUE girl?h etc. – Official blog http://ameblo.jp/asbs-kurumi/)!
There will also be a bunch of dance showcases so DON?fT MISS OUT ON ALL THE FUN!!!
Come dressed up and $50 drink voucher will be rewarded to the winner of the costume contest!!!
We hope to see you all there!!!
Tickets
Pre-Sale: $22
At door: $28
Tickets available at:
Travel Travel (ToraTora)
Level 3 303 Pitt street Sydney
Dancekool
319 Sussex street SydneyJapasoul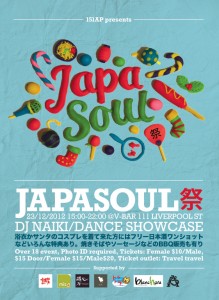 Here is japanese christmas party coming up 23rd Dec 2012!
This is last japanese party in this year so please do not miss out.
Yukata or Santa costum girl get one sake shot more special prize.
Also we are doing BBQ
We are serving yakisoba (Japanese stir fried noodle) and bbq sausages for exceptionally cheap price!
We will be playing J-pop, club music, and more!
Plus, you will get to enjoy dance performances!
You can get ticket from japanese agent travel taravel(Level 4 303 pitt street sydney) $10 female /$15 male
Door $15 female /$20 male
Let?fs get the party super hyped this X?fmas!
Boom Boom clap!!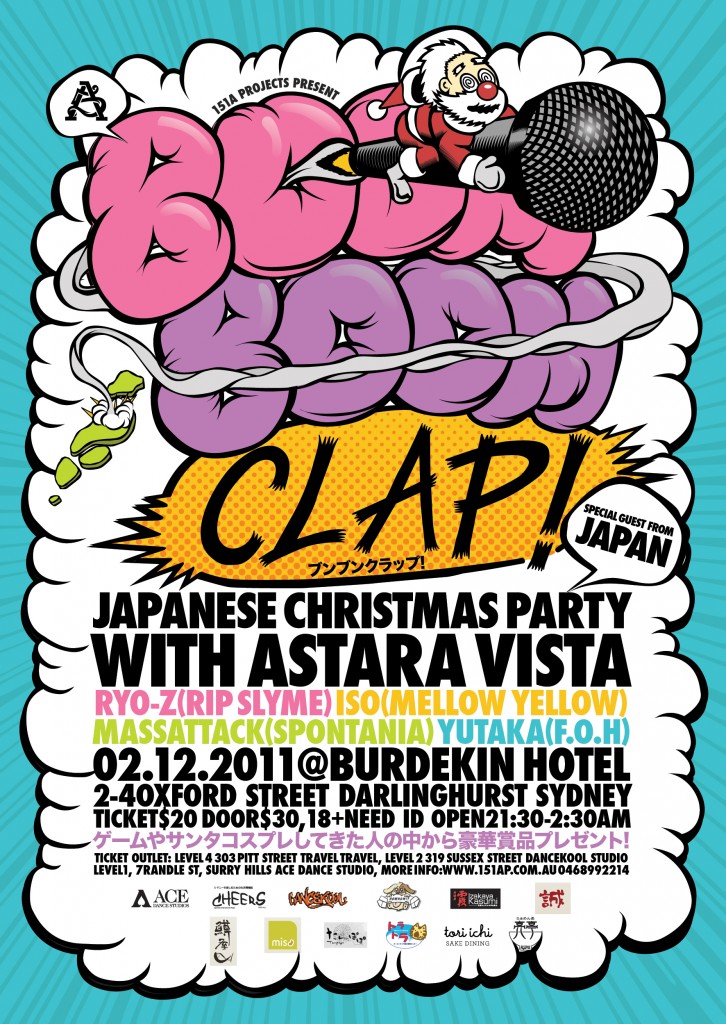 PosterJapanese Christmas party on 2nd DEC at The Burdkin hotel
(2-4 oxford street Darlinghurst)
open 21:30 till 2:30 am
Preticket $20 /Door $30
You can buy ticket @
Toravel toravel (Level 4 303 Pitt street )
Ace Studio (Level1 7 Randle street surryhills)
Dancekool studio(Level2 319 Sussex street Sydney)
Ticket 200 limit.
Dance showcase , Japanese game and get good prize also Japanese famous artist come from Japan!!!
Please come and enjoy the party!!
Manji Line & Spontania Live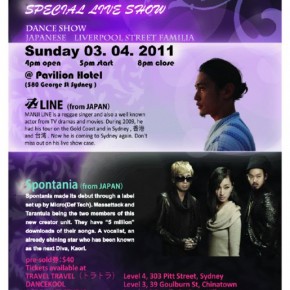 ManjiLINE has kicked off his live performance in Sydney in June, 2009, so this will be his second tour in Australia.
They are diversely active in-side and out-side Japan. You?fll get to feel their power even more!!
Spontania will join this Australian tour for the first time. He is a singer, passionately developing his music career that he has started to collaborate with the new vocal Kaori since last year.
Their representative songs include ?e?f???????? (If I Could Be More Honest)?f featured with JUJU and ?e?N??????? (To Your Everything)?f.
We can not wait to see their performance in Australia.
Break dancing crew, formed of Japanese people living in Sydney, JAPANESE LIVERPOOL STREET FAMILIA, will also show us a dance performance to hype the crowd.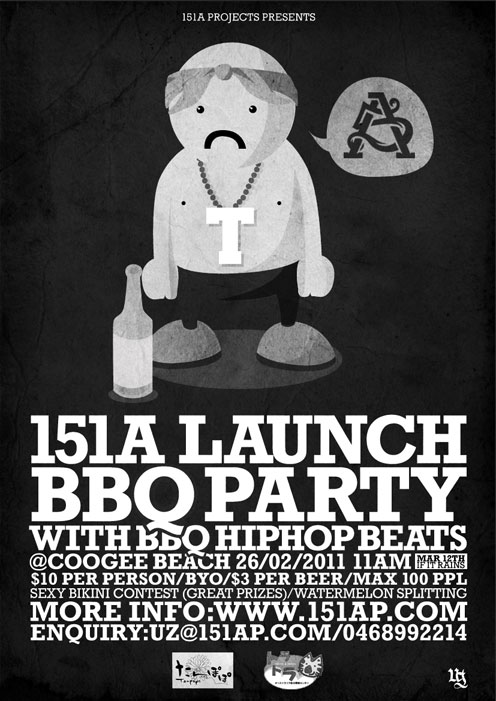 SUMMER's NOT OVER!! ALL YOU CAN EAT BBQ PARTY@COOGEE
Don't miss out your last chance to party this summer!!
We are having a BBQ party on COOGEE beach SUN 27th Feb.
Bikini Competition
Games (incl. a traditional Japanese game "Suika-wari" [Watermelon bust])
+ special prizes awarded to winners
Great beach music
Fee $10pp – ALL YOU CAN EAT(incl. meat, sausages, fried noodles with prawns, rice balls etc etc)
BYO drinks (beer($3) is also available on request)
*If it rains, the event will be postponed until SUN 12th Mar.
Limited to 100 people!!
BOOK NOW!!!
uz@151ap.com
————————————————————————————————————
X'mas Party 2010
Triple Rebels, 151 A, and ACE proudly present 2010
official X'mas Party on 10th Dec 2010 FRIDAY.
*DJs*
DJ CoCo (Awesome JAPANESE Female DJ)
DJ Azu
* PERFORMANCE*
Triple Rebels
Candy Boogie Woogie
KANPAI
Black Cat Angels
This line-up is AWESOME.
You can't miss these performers performing at the same event.
*DJs*
DJ NAIKI
DJ NAO
*PERFORMANCE*
Dilated NU
Liverpool Street Familia
EX1
————————————————————————————————————